It's time for Easter!
I always loved Easter growing up. As far back as I can remember, we always got kites from the Easter Bunny. It was kind of a tradition... get a kite in our basket and then fly them after church.
It's such a beautiful time of the year. The sun is starting to shine, the days are getting progressively longer, and the flowers are beginning to bloom.
The Easter season is a time for reflection and trying to become a better person in this household. I hope that with each Easter, Matt and I can become the people that we would make Claire proud to have one day. She certainly makes up count our blessing, that's for sure.
Easter time also means pastel clothes and baskets filled with goodies! Having a little girl is super fun because I get to dress her up for Easter morning mass! I cannot wait :)
So, for Easter mass Claire will be wearing this cute lil dress. It's Janie & Jack but I purchased it new on Ebay. I plan on accessorizing it with a white sweater, simple bow, and silver ballet flats.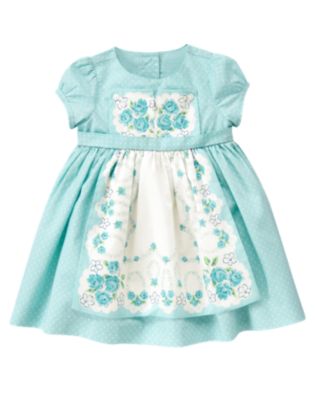 After church, she will wear this darling lil "HAPPY EASTER" dress. I purchased this last week at babies"r"us.
Now onto the goodies we'll go
First stop, a spotted rooster...
Matt got this precious rooster at a boutique and it screams EASTER!!
Next, there's this rabbit hand puppet...
we got this at a gift store when we went on our first date since Claire's birth. It's so much cuter in person!
Okay here's the mother load...
Of course she's getting a dozen books! But lil miss is also getting a new lamby towel & bath toy, a My First Easter bib and bunny finger puppet.
I also ordered these
Uggs
but they haven't arrived.
Can't wait for her to dig in to this stuff :)